The Whacked Out Juicer is the fourth boss of Dynastar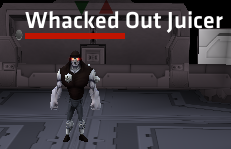 Whacked Out Juicer
The Whacked Out Juicer is the fourth boss of Dynastar, found in the Dynastar Black Projects Area. This boss does huge damage, so keep your distance to survive.
Origins
Whacked Out Juicers are apparently people who drank too much or became addicted to "Juice"
Ad blocker interference detected!
Wikia is a free-to-use site that makes money from advertising. We have a modified experience for viewers using ad blockers

Wikia is not accessible if you've made further modifications. Remove the custom ad blocker rule(s) and the page will load as expected.